The weather is forecast to be wet and windy, you're stuck in the house with the kids, but you don't want to spend a day in front of the TV! Here are our ideas to make it fun!
1) Play hide and seek
We love this game, it gets their imagination going and they can practice their numbers at the same time!
2) Painting
The dreaded word! I have got better over the years with a messy painting day! You can make footprint and handprint cards for birthdays or Mother's or Father's Day for instance. Or go completely freestyle and let them mix up all the paints!!
I have recently discovered paint sticks which are solid paint and are brilliant if you don't like the mess of painting!
3) Baking
I am not a baker at all … I wish I was but something always happens!! However, I can just about make gingerbread men (sometimes they look a bit anaemic 😂).
They are really quick to make, Mini Mumbler loves rolling and cutting them out and with a few icing pens, raisins, sweets etc you can get the kids to decorate them too!
4) Make a den
Mini Mumbler loves dens! From the sofa, I prop the cushions up and stretch a blanket over to the coffee table. He will play for ages with his toys under there!
5) Do a craft activity
This doesn't have to be the next sculpture to exhibit in the Hepworth Gallery and its amazing what you can create out of your recycling bin! There's nothing better than making a rocket out of a cereal box, toilet roll holders and some bits of foil!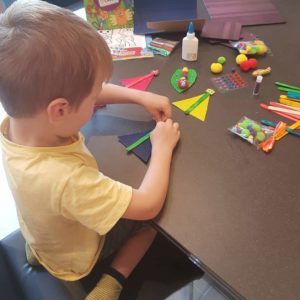 6) Read some books
Go to the back of the book shelf and pick out books you haven't read for ages!! I love going back to ones and re-reading the story!!
7) Make some music
Over the years we have collected an array of musical instruments and Mini Mumbler likes to play 'band' where we all get given a different instrument! However, pans, boxes, wooden spoons, bells from Christmas decorations all work just as well!
8) Play some board games
We are huge fans of Orchard Toys and have spent many an hour playing snap, matching pairs, memory games or our favourite dinosaur dominoes! Mini Mumbler also loves games that I loved as a kid too … snakes and ladders, connect 4 and hungry hippos!!
9) Sensory play
Raid the kitchen and see what you can find. Different types of spoons … plastic, wooden, metal etc. Get out some bowls and pans and add dried pasta or rice. If you have different coloured cups, try a colour sorting activity – this can be as easy as different coloured paper from a magazine!
10) Just play!
Head to the toy box pick that favourite toy and be led by how your child wants to play!
Other things suggested by Mumblers
Paint rocks
You Tube kids yoga
Joe Wicks Kids Hiit workouts
Indoor picnic
Have fun!! And if you have a go to activity, feel free to share it in the Wakefield Mumbler chat group!