Featured Listing
Whenever we go on a walk where there are ducks, they are always being fed by people of all ages! It is such a good activity to get some fresh air and run off some energy with the kids (as well as being FREE!!)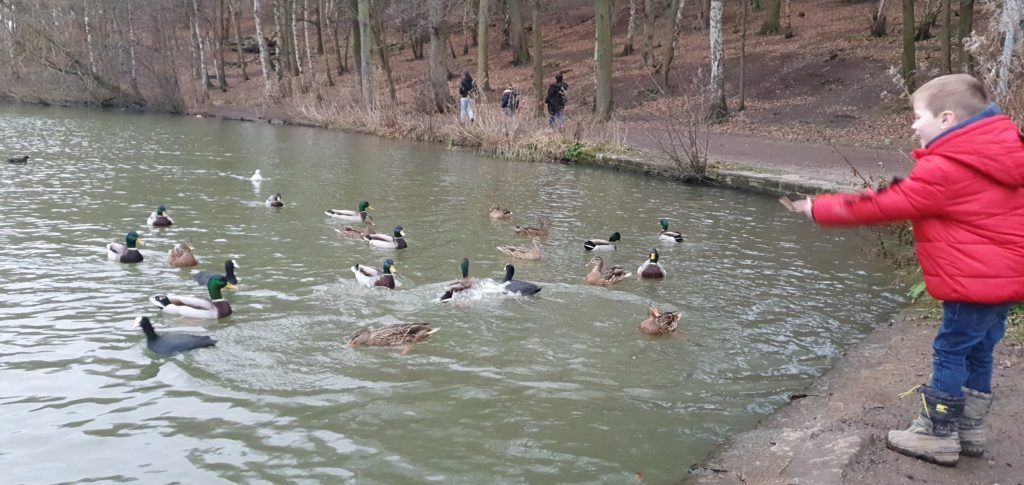 Here are our pick of five duck ponds across the Wakefield District:
1) Thornes Park, WF2 8QD
When Mini Mumbler was little, we would regularly go to Thornes Park to see the ducks! They will quite happily jump out of the pond and feed from your hand. For someone who is petrified of flying animals I would quitely disappear back to the car and leave Daddy to it!
At the far end of the duck pond is the aviary with lots of different birds too and if you wanted to brace the hill with your buggy, you can pop over to the other side of the park to the play area!
2) Stanley Marsh Nature Reserve, WF3 4DF
This is not Stanley Ferry, this is just off Lime Pit Lane! You can take the circular path around the lake through lovely woodland! There are lots of ducks, bird and wildlife to spot along the way!
The canal is also nearby and is a great place to do some boat spotting and watch the barges go through the lock at Stanley Ferry
3) Hemsworth Water Park, WF9 5JB
There are two lakes at Hemsworth Water Park; the largest having sandy beaches and you can ride pedalos and then the smaller one being a little quieter and  more for wildlife. Both lakes have lots of ducks and swans, the paths are well maintained and there is a brilliant play area too (charges apply)
Please note local residents in Hemsworth, Fitzwilliam & Kinsley are entitled to a reduction in costs of some of the facilities – permit is obtainable from the Community Centre
4) Newmillerdam Country Park, WF2 6QQ
A firm favourite with our family! We love how there are the fisherman platforms and the gentle slopes so you can get up close to the ducks!
The ducks are really friendly too (as they are very well fed) so expect to be followed around the lake!
You can combine it with a walk around the lake, and maybe a coffee and cake at one of the cafes and restaurants in Newmillerdam!
5) Pugneys Country Park, WF2 7EQ
There are loads of ducks with tonnes of parking, a great play area and a little train to ride on (charges apply). We have spent hours at Pugneys, whether feeding ducks or walking round the lake!
The ducks and geese are usually on the bank side so there's no need to go close to the water edge!
More recommendations from Mumblers:
Anglers Country Park, Wintersett (WF4 2EB)
Nostell Priory, Nostell (WF4 1QE)
Wilton Park, Batley (WF17 0AS)
Roundhay Park, Leeds (LSH 2HH)
The big debate … can you feed bread to ducks?
There was a bit of a debate in October 2019 when a mum posted a photo of a poster saying it was fine to feed ducks bread displayed at her local park in Derbyshire.
BBC News ran the story with the RSPB saying bread was fine in small amounts if the ducks had a varied diet. Things you can feed ducks include bread, sweetcorn, porridge oats, peas or bird seed. To read the full story – https://www.bbc.co.uk/news/uk-england-derbyshire-50081386
Featured Listing
The weather is forecast to be wet and windy, you're stuck in the house with the kids, but you don't want to spend a day in front of the TV! Here are our ideas to make it fun!
1) Play hide and seek
We love this game, it gets their imagination going and they can practice their numbers at the same time!
2) Painting
The dreaded word! I have got better over the years with a messy painting day! You can make footprint and handprint cards for birthdays or Mother's or Father's Day for instance. Or go completely freestyle and let them mix up all the paints!!
I have recently discovered paint sticks which are solid paint and are brilliant if you don't like the mess of painting!
3) Baking
I am not a baker at all … I wish I was but something always happens!! However, I can just about make gingerbread men (sometimes they look a bit anaemic 😂).
They are really quick to make, Mini Mumbler loves rolling and cutting them out and with a few icing pens, raisins, sweets etc you can get the kids to decorate them too!
4) Make a den
Mini Mumbler loves dens! From the sofa, I prop the cushions up and stretch a blanket over to the coffee table. He will play for ages with his toys under there!
5) Do a craft activity
This doesn't have to be the next sculpture to exhibit in the Hepworth Gallery and its amazing what you can create out of your recycling bin! There's nothing better than making a rocket out of a cereal box, toilet roll holders and some bits of foil!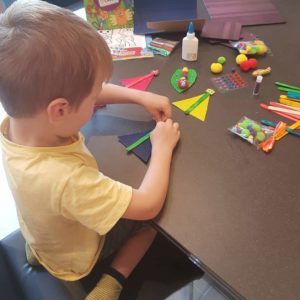 6) Read some books
Go to the back of the book shelf and pick out books you haven't read for ages!! I love going back to ones and re-reading the story!!
7) Make some music
Over the years we have collected an array of musical instruments and Mini Mumbler likes to play 'band' where we all get given a different instrument! However, pans, boxes, wooden spoons, bells from Christmas decorations all work just as well!
8) Play some board games
We are huge fans of Orchard Toys and have spent many an hour playing snap, matching pairs, memory games or our favourite dinosaur dominoes! Mini Mumbler also loves games that I loved as a kid too … snakes and ladders, connect 4 and hungry hippos!!
9) Sensory play
Raid the kitchen and see what you can find. Different types of spoons … plastic, wooden, metal etc. Get out some bowls and pans and add dried pasta or rice. If you have different coloured cups, try a colour sorting activity – this can be as easy as different coloured paper from a magazine!
10) Just play!
Head to the toy box pick that favourite toy and be led by how your child wants to play!
Other things suggested by Mumblers
Paint rocks
You Tube kids yoga
Joe Wicks Kids Hiit workouts
Indoor picnic
Have fun!! And if you have a go to activity, feel free to share it in the Wakefield Mumbler chat group!
Featured Listing
If you're planning a staycation or a day out outside of Wakefield with the kids you'll want to make the most of your time and money.
Why not use other Mumbler sites to do research on the area that you're visiting?
We have fully operational sites in the following areas;
Yorkshire:
Leeds (North Leeds Mumbler, South Leeds Mumbler, Wharfedale Mumbler)
Doncaster Mumbler
Further afield:
Poole Mumbler
Oxford Mumbler
East Cheshire Mumbler
Gateshead Mumbler
Featured Listing
From museums to mining, lakeside walks to sculptures, Wakefield has lots of fun, free, family activities!
Here are our top 5 for you!
1) A walk around Pugneys Country Park (WF2 7EQ). It's suitable for prams and children's bikes and is not too far for small children to walk the circular 1.5 mile circular route. There's the bonus of a miniature railway ride (charges apply) and a fab playground!
2) Follow the Room on the Broom trail at Anglers Country Park (WF4 2EB). The lake was once the deepest opencast mine in the UK! At the visitor's centre you can hire bikes for the whole family including bike trailers for the tiniest!
3) The Hepworth Gallery (WF1 5AW) is a great place for families with a family centred café, a playground and lots of free weekly craft and art activities. Visit the Explore & Draw Stations and create your own artworks as you explore the galleries
4) Visit Wakefield (WF1 2DD), Pontefract (WF8 1BA) or Castleford Museum (WF10 1BB). Stand on the back of a fierce caiman in Wakefield, view a unique & special Iron Age chariot in Castleford and find out about liquorice in Pontefract! Every Saturday they all have family craft sessions between 11am and 3pm.
5) Learn about the history of coal mining & the science behind it at National Coal Mining Museum (WF4 4RH). You can travel 140m underground with a past local miner to explore England's last deep coalmine (charge applies). See the pit ponies, run around the new adventure playground, check out the indoor soft play and take a walk around the beautiful countryside!
Featured Listing
"The perfect antidote to the stuffy and staid traditional gallery environment, here families are free to wander through the Park's 500 acres without constraint. A uniquely family-friendly modern art experience."
Junior Magazine
YSP welcomes families and aims to be as family-friendly as possible. In the open air, children are free to run around, making the most of our 500 acres of historic parkland.
With 60 works in the open air, there are many hidden treasures to hunt for, and unlike traditional galleries, at YSP you can touch the sculptures. Family favourites in the Park include Playground by artist collective Greyworld, a musical sculpture that children will love to step across, and Crawling by Sophie Ryder, a half woman, half hare made from domestic items and plastic toys.
Families will also enjoy walks in the newly restored lakes and woodland where they'll discover bridges, follies and incredible historical features including a Greek-style summer house, a now land-locked Boat House, an Obelisk, Stepping Stones and a magical Shell Grotto.
Facilities for families include:
Baby changing at YSP Centre, YSP Learning and the Bothy Gallery
Highchairs in the Restaurant and Café
Family-friendly food and drink, unlimited tap water
Picnic areas
Pocket money souvenirs and affordable children's accessories available to purchase in the YSP Shop and Café
Downloads for families
Downloads are available to enhance the family experience- click here
For more resources, including downloadable tours and podcasts visit the Learning section
Family events
There are regular family-friendly events to take part in at YSP. Find out about upcoming activities
Please see our school holiday section and events calendar for details of events for families and Children plus lots of open spaces indoors and out for all ages to enjoy, a great family day out!
FREE (parking charges apply and some vents also have a small charge)
West Bretton, Wakefield, WF4 4LG
Come and enjoy our home made award winning Jersey Ice Cream whilst taking in the stunning views over the Calder Valley.
Entry is free, so bring the children to meet the animals. Enjoy our delicious home made ice cream and award winning sorbets, then burn off some energy in the outdoor play area.
Open 10:30am-6pm every day except Christmas Day
We are a Facebook-based group for mums, dad's babies and toddlers based in Stanley in Wakefield. We are a new group but fast growing in following with the aim of introducing a new generation of children to the glorious nature Yorkshire is abundant with.
    We aim to be a fun and sociable way of interacting mums with other parents and kids with their natural environment. As well as the social aspect we also encourage mums to escape the house and daily grind whilst getting fitter in the process. With regular walks ranging from simple pram friendly walks around Newmillardam to baby rucksack only hikes in the Peak District and Yorkshire Dales we aim to cater for all levels.
💜 RECOMMENDED BY A MUMBLER! 💜
For kids who love trains, pop over to Moorthorpe Train Stain, near South Kirkby (WF9 3TA) 🚄🚂☕
It's a nice quiet train station for the kids to watch the trains passing and a great cafe right on the platform called Mallard Coffee Lounge! [Recommended – BP]
The Museum is open daily from 10am until 5pm (closed 1st January and 24th-26th December annually).
The National Coal Mining Museum for England is a unique place where the history of mining over several centuries is preserved both above and below ground.
Call:01924 848 806
Perfect place to feed the ducks, get your wellies muddy and enjoy the great outdoors. Paths suitable for pushchairs and bikes it is likely to be muddy though so be prepared!
Car park
Charges apply 8am – 6pm, Monday to Saturday
Pay and Display Machine
Maximum stay: 10 hours
Up to 1 hour – 60p
Up to 2 hours – £1
Up to 4 hours – £1.30
Over 4 hours – £1.70
Dungeon Tours most  Fridays, and every Saturday and Sunday at 1:15pm. Additional tours in school holidays (Adults £3, Children £1.50)
School Holiday Activities and workshops, check out our events calendar for details
Castle Entrance is FREE
The Lodge Castle Chain, Pontefract WF8 1QH (SAT NAV WF8 2JR)
Contact: 01977 723440
At the Pugneys Watersports Centre you can try your hand at a fantastic range of activities.
Good paths for bikes, pushchairs and wheelchairs. There is also an outdoor adventure playground for the children.
Outdoor gym trim trail, Download the free documents here
Call: 01924 302 360
Dinosaurs at Pugneys!! If you thought you'd missed them, fear not, as you can now see dinosaurs every day with Love Exploring App at Pugneys Country Park!
We really did wonder what we were going to see but look how close we got to the dinosaurs!!
The adventure is based around the FREE Love Exploring App that Wakefield Council have brought into Pugneys Country Park!
Download it onto your phone and off you walk around the lake to discover dinosaurs (just make sure you have a decent amount of battery in your phone)!
You start off at the visitor centre and walk on the new path along the lakeside towards the zip line. Your location counts down the meters to the dinosaur, and when you get close the app tells you to look for the dinosaur with the special app camera. The dinosaur then appears right next to you!
A map shows you the location of the next dinosaur after you have answered a dinosaur fact! Make sure you answer the question or you won't activate the next dinosaur!
The dinosaurs are often located close to play equipment or the Blown Away Adventure Trail so you get to do all of Pugneys activities!!
Mini Mumbler who is 4, and dinosaur mad, was a little confused at what we were pointing at to start off with, but as soon as we started showing him the image on the phone, before taking a photo, he got it and was really excited to find the next dinosaur!
There were a lot of families enjoying the activity and we'll definitely use the app again!
To download the app:
@Elsecar Park
open 9am-5pm 7 days
Cafe serving breakfast, coffee, drinks and English cuisine.
Suitable for children.
Takeaway and outdoor seating available