If the kids are wanting to do some arts and crafts this holiday, here are a few ideas that they can do at home.
---
Nature Mobile
Turn a scavenger hunt into a craft session as well. Create a nature mobile by tying pine cones, feathers and other garden treasures onto a large stick with twine.  You can hang your nature mobile from a tree to create a lovely garden decoration. Cut the twine to varying lengths and tie on your finds – you can include shells (if you have any) and some natural coloured beads (greens, browns, oranges etc) for full effect.
---
Make a CD Scarecrow
The CDs glint in the sun and help to scare away crows and pigeons in areas where you have seeds growing. Have fun decorating it with pens (sharpies or permanent markers)
How to make the CD Scarecrow:
Draw on the shiny side of the CD with the permanent markers.
Tie the CD on to a cane using string and 'plant' it next to your seedlings.
Watch how it glints in the sun
---
Make A Garden Plaque
Here is a clever craft idea for summer. Kids can make this garden plaque extra special with all their treasures and display it in the garden to admire – or give it as a very special gift!
You will need:
Plaster of Paris
Aluminium pie case
Shells, pebbles, acrylic gems, marbles or other water-resistant treasures to decorate. You could even use small plastic toys such as figures or toy cars.
Instructions:
Make sure that you have a covered surface to work on and your children have overalls to protect their clothes. Gather all your materials in advance, as Plaster of Paris dries quickly.
Mix up the Plaster of Paris in an old jug according to the instructions on the packet. Pour into the pie case.
Carefully lay your decoration on top (note: they will sink a little no matter how carefully you do this; if you are too rough they will sink a lot!)
Leave to dry for a couple of hours and then remove the plaque from the pie tray.
Dig a hole in the garden and pop in the plaque. Back-fill with soil so that the top of the plaque sits level with the flower bed.
(with thanks to the Activity Village)
---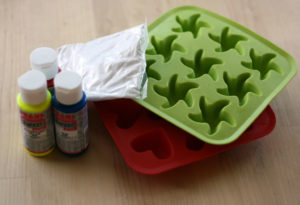 How to Make Your Own Chalk
This is surprisingly cheap and easy to make. You can pick up novelty shaped silicone ice cube moulds in places like IKEA to make fun shapes. The finished chalk can be packaged up to make cute gifts or themed party favours.
You'll need:
Plaster of Paris
Water
Powdered Tempera Paint
Mixing Bowl
Moulds
To make your own traditional chalk shaped moulds, try using toilet paper rolls.  To make them thinner, just cut a seam, overlap the edges, and tape together.
How to make the chalk:
For coloured chalks, stir in a large teaspoonful of powder tempera (poster) paint through a cup of plaster of Paris powder. For white chalk, you don't need to add any paint powder.
Mix the craft plaster of Paris powder with water in a disposable container using a ratio of 2 parts plaster to 1 part water. You won't want to wash plaster down the sink so a disposable container works best.
Stir well until the plaster is about the consistency of pancake batter. It should be quite thick but able to pour.
Pour the plaster into the silicone mould and tap the mould gently to help release any bubbles.
Leave to set for around 24 hours then pop out the chalks.
Leave to fully dry for another 24 hours before using.
(Courtesy of Instructables)
---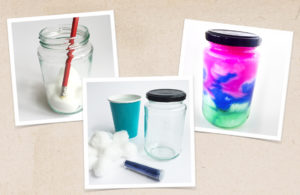 BFG Dream Jar – perhaps tie in with watching the film and reading the book
You will need:
Empty glass jar with lid (e.g. an old jam jar)
Cotton wool
Glitter
Food colouring
Water
How to make a BFG Dream Jar:
Fill the jar loosely with cotton wool.
Top up with water.
Add in some glitter.
Add in a few drops of food colouring until you get the depth of colour you are looking for.
Screw on the lid tightly and give the mixture a shake at this point to ensure the food colouring is mixed through. Add a little more if needed.
Why not make a few different dream jars of different colours and line them up on your shelves. Perhaps get creative too…
Use goggly eyes to make it look like little critters are hiding in the dream.
Use colourful sweet wrappers if your dream takes place in a sweet shop.
If you dream of flying then use gemstones for stars and blue and white paint for the sky.
Experiment with colours: Use gold and white for a royal dream; red, white and blue for a patriotic
dream; black, green and red for a nightmare.
Use stickers, marker pens and patterned tape to decorate the outside of the jar.
(Courtesy of WHSmith)
---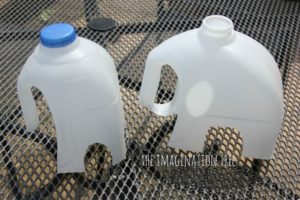 Recycled Milk Bottle Elephants
Here's a fun craft to make a cute elephant from a recycled milk bottle. We used a 2 litre bottle but you could try making different sized elephants from any size
You will need:
Milk bottle
Tissue paper
PVA glue
Google eyes
Scissors
How To Make The Milk Bottle Elephant:
Cut the top off the milk bottle at the bottom of the handle. The handle becomes the elephant's trunk.
Cut out some arches to make legs for the elephant.
Cover the elephant with pieces of tissue paper, sticking it on with PVA glue.
When dry, stick on google eyes
You could tie this in with the book Elmer the Elephant
(Courtesy of The Imagination Tree)
---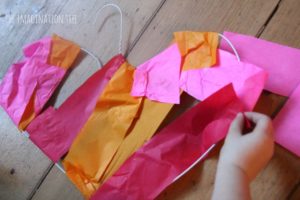 Suncatchers
I love a sun catcher and these featured in the Easter craft ideas. Here's another I have found using a coat hanger which makes it so much easier to put up (no more blu tack on your windows!). Pull the metal coathangers down in the middle at the bottom into a sharp point, then bend the two sides up and out into rounded corners, it makes a simple heart shape, ready for decorating and hanging up on display! Then all that is needed is some wide tissue paper and some pritt stick. Wrap round the heart and glue into position, then hang to see the colours blend.
(Courtesy of The Imagination Tree)
---
Cardboard Texture Activities 
A really popular activity this lockdown has been cutting a piece of cardboard into shapes and allowing children to explore textures and colours. These can be butterflies, dolls or even superheroes. Cut out the shape of cardboard, maybe stick on your little ones photo as the head. For example, perhaps cut out the dress and allow them to hold them up to different colours and shapes when out and about.