Finding suitable walks that have both paths suitable for prams and are dog-friendly can be quite daunting, but there's so much more to do than circuits of your local park!  Local Leeds mum Rachel Girtchen, a.k.a. 'Muddy Boots Mummy' shares some of her favourite walks which are suitable for both!  (pram and pooch non-compulsory!).
Temple Newsam
I genuinely think this is one of the most underrated places in Leeds. All too often visitors here stick to the House and Farm with a little wander to the ponds… but there is so much more to see, with masses of pretty woodland to explore.  This route sticks to bridleways so can be walked with a pram, and at just 3.5km gives you a glimpse of what the estate can offer. The route is mostly tracks, so can get muddy in places- but perfect for stretching doggy legs!  Click here for full details of the route.
Fairburn Ings
I've only recently discovered the full extent of walks here, and honestly think this is great if you have a pram and a dog! A 6km walk starts in the visitor centre and gives great views over the area as well as taking a pretty path along the river. As it's a nature reserve dogs need to be under close control.  Click here for full details of the route.
Harewood Estate Circular
A walk around the perimeter of the estate is just under 8km and passes through both woodland and field. There are parts of the walk where dogs will need more control (such as passing through the deer park), but there is more freedom on the woodland paths. The route is mainly on tracks, but some parts can get muddy, so be prepared after wet weather!  Click here for details of this route.
Stanley Ferry
Between Wakefield and the M62 you will find Stanley Ferry and can walk along the canal and combine it with a wander around the pretty woodland of the Southern Washlands Nature Reserve. This route comes in at 4.6km, and has plenty for your pooches to have a sniff at, as well as good tracks for prams (although some parts can get muddy).  Click here for details of this route.
Fewston and Swinsty Reservoirs
Just north of Otley these two gorgeous reservoirs are hugely accessible, and you can walk them separately or combine them for something longer. Paths are mostly gritted, particularly around Fewston but the route around Swinsty can get muddy. Be prepared to see lots of prams and dogs; you'll be in good company!  Click here for details of this route.
Bolton Abbey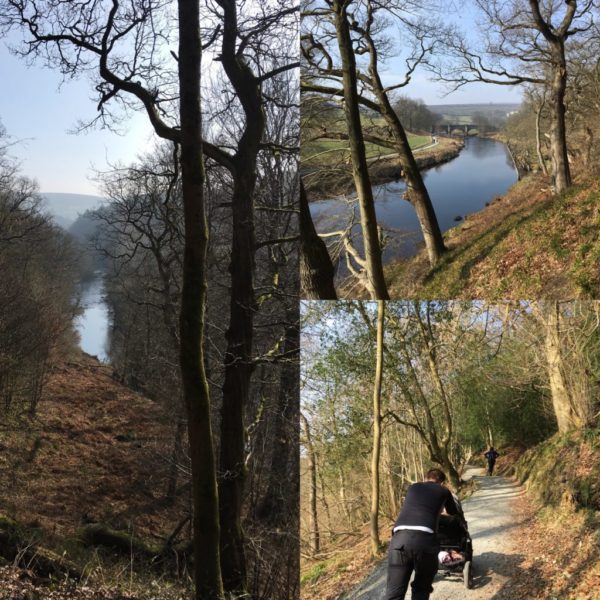 This place is a firm favourite for family walks, with many paths that are very accessible and family friendly. If you're up for something a little more challenging, the 7.5km Barden Bridge route is great.  Be warned it's not for the faint hearted with a pram… there are some steep climbs and you need to be prepared for some difficult pushing, but we've done it successfully in decent weather (I would definitely avoid on a wet day).  Click here for details of this route.
Other suggestions:
If you're looking for more ideas of walks around Yorkshire, you might find something that you fancy on my blog!   To find out about new walks that I find, like my Facebook page and follow me on Instagram.
I hope you enjoy them!