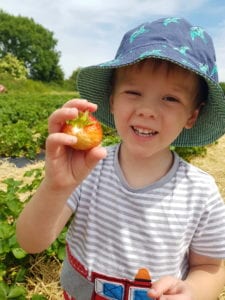 If you follow Wakefield Mumbler on Instagram you would have seen that Mini Mumbler and I went strawberry picking in Northumberland, where I grew up, recently.
We had a great time and Mini Mumbler lovely finding the bright red strawberries to put in his basket! The strawberries were only just turning, due to the cold and rainy weather at the start of the June.
So here are my top 5 places to pick strawberries around Wakefield! If you have any more places please do share on the Wakefield Mumbler chat group!
---
1) Farmer Copleys PYO Strawberry Experience, Pontefract
The popular Farmer Copleys has fields of strawberries and raspberries to choose from.  Alongside the farm shop, there is the Moo Cafe which will also be celebrating the strawberry in its desserts and cakes, salads, drinks, juices, cocktails and Pimms!
Opening Dates:
Pick your own strawberries from 15th June to 28th July 2019.
Update as of 15th July – strawberries now finished, raspberries and gooseberries available!
Open daily 10am – 4pm
Other Details:
Takes cash or card
Plenty of parking available
Cafe and toilets available onsite
Small animal farm
Prices:
£6.99 per kilogram
£12.99 for the huge bucket
£6.50 per kilogram if you bring your own container
Ravensknowle Farm, Pontefract Road, Pontefract, WF7 5AF
---
2) Redwood Farm, Ardsley Reservoir
Locally owned, friendly farm selling strawberries and situated at the side of the reservoir!
Opening Dates:
Open mid June until approx mid July.
Update 13th July – still late strawberries left to pick.
Open daily 11am – 7pm (check theie facebook page for opening days)
Other Details:
Cash only
Cream, soft drinks & snacks available
Parking in the field below
Prices:
Strawberry cost – £4.50 per kilogram
Haigh Moor Road, Tingley, WF3 1EE
---
3) Strawberry Fields, Morley
Family owned strawberry fields at Thorn Farm in Morley has a large patch with a variety of different berries to choose from.  You have the choice of a small basket (approx 1 kilo worth) or a larger basket.
Opening Dates:
22nd June until mid July.
Update 15th July – now closed
Open daily 11am -6.30pm, 7 days a week, weather permitting.
Other Details:
Cash only.
Large free car park (There is a short walk to the strawberry field)
No toilets or dogs allowed onsite
Cream available to buy!
Prices:
£4.80 per kilogram
Bring your own container, get it weighed at the start and they'll deduct its weight from what you pay
Thorn Farm, Morley, LS27 0LX, Based on the main A650 road opposite the Toby Carvery
---
4) Bentley Grange, Emley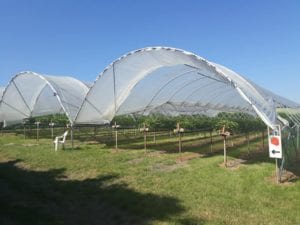 Bentley Grange grow a range of soft fruits including Strawberries, Raspberries, Blackcurrants, Redcurrants and Gooseberries. Strawberries often start around Wimbledon week and last approximately six weeks. Gooseberries start a little earlier and raspberries and currants a little later but each year is different, depending on the weather.
Opening Dates:
Now open Mon – Fri 10am – 6pm, weekend opening see website
Update 15th July – open for strawberries, raspberries and blackcurrents (still a bit sharp). Gooseberries now finished
Other Details:
Pay in the shop
Sell Longley Farm Cream, local honey and fresh farm eggs
Prices:
Strawberry cost – £4.20 per kilogram
Bentley Grange, Woodhouse Lane, Emley, HD8 9QX
---
5) Bert's Barrows, Hillam 
Bert's Barrow is a small family run farm in Hillam and was started up by Marlene and Ian (Bert) Thompson with a cart at the side of the road with an honesty box, selling locally sourced seasonal vegetables in aid of the village defibrillator fund. They have a lovely courtyard area with tables where you can sit and enjoy a coffee or ice cream and the most amazing cakes! There are also pedal tractors to keep the kids entertained as well as goats, chickens and horses to see, as well as Pizza Nights and Outdoor Yoga!
Opening Dates:
5th June 2019 until approx mid July.
Update 13th July – still open for strawberry picking!
Open Mon – Fri 9am – 5pm, Sat 9am -4pm and Sun 10am-4pm.
Other Details:
Pay in the shop
Breakfast served on a Sunday 10am-12pm
Prices:
Strawberry cost – £2/1lb
Bert's Barrow, Austfield Farm, Austfield Lane, Hillam, Leeds, LS25 5NQ.