Here are my top 5 places to pick strawberries around Wakefield!
With the warm weather, I'm expecting that we'll have plenty of strawberries to pick in 2022! We have checked out all of our family favourite PYO's as it's such a lovely family activity to do and we wouldn't want you to miss out!
These are our favourite places to pick strawberries around Wakefield and slightly further afield. If you have any more places please do share on the Wakefield Mumbler chat group!
Post updated 23rd June 2022. Please do check individual contact pages for up to date opening dates and timings before travelling.
Wondering what to do with your strawberries? Check out some easy baking ideas here 
---
1) Farmer Copleys PYO Strawberry Experience, Pontefract
The popular Farmer Copleys has fields of strawberries and raspberries to choose from. A top place to pick strawberries around Wakefield. Alongside the farm shop, there is the Moo Cafe which will also be celebrating the strawberry in its desserts and cakes, salads, drinks, juices, cocktails and Pimms.
Opening Dates:
12th June to August 2022
Table top strawberries with entry ticket booked via the website
Open daily 10am – 4pm
Other Details:
Takes cash or card
Plenty of parking available
Cafe and toilets available onsite
Small animal farm
Prices:
Admission £2.00 per person (under 1's free)
Punnets cost £5.95 / kg
Ravensknowle Farm, Pontefract Road, Pontefract, WF7 5AF
---
2) Redwood Farm, Ardsley Reservoir
Locally owned, friendly farm selling strawberries and situated at the side of the reservoir!
Opening Dates:
Daturday 25th June 2022
Open daily 10am – 5pm (check their facebook page for opening days)
Other Details:
Cash & card payment
Cream, soft drinks & snacks available
Parking in the field below
Bus 117 drops directly outside and 212 drops at bottom of the road
Prices:
Strawberry cost – TBC
Haigh Moor Road, Tingley, WF3 1EE
---
3) Strawberry Fields, Morley
Family owned strawberry fields at Thorn Farm in Morley has a large patch with a variety of different berries to choose from.  You have the choice of a small basket (approx 1 kilo worth) or a larger basket.
Opening Dates:
23rd – 26th June 2022
Open intermittently at start of season 12pm -5.00pm, (check their facebook page for opening days)
Other Details:
Cash only.
Large free car park (There is a short walk to the strawberry field)
No toilets or dogs allowed onsite
Cream available to buy!
Prices:
Strawberry cost – Small Basket (1kg), Large Basket (2.5kg) – pay for what you pick
Cost £7.80 / kg
You can bring your own basket which will be weighed on arrival
Thorn Farm, Morley, LS27 0LX, Based on the main A650 road opposite the Toby Carvery
---
4) Bentley Grange, Emley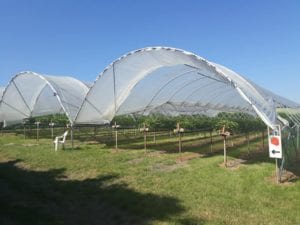 Bentley Grange grow a range of soft fruits including Strawberries, Raspberries, Blackcurrants, Redcurrants and Gooseberries. Strawberries often start around Wimbledon week and last approximately six weeks. Gooseberries start a little earlier and raspberries and currants a little later but each year is different, depending on the weather.
Opening Dates:
Open 23rd June (10am – 6pm)
Please check the website for opening days & times as they do not open every day
Other Details:
Sell Longley Farm Cream, local honey and fresh farm eggs
Prices:
£5.00 / kg
Bentley Grange, Woodhouse Lane, Emley, HD8 9QX
---
5) Kemps: Horsforth Pick Your Own
Recommended by North Leeds Mumbler is their local PYO Kemps in Horsforth.  Farming in Horsforth for over 60 years the Kemp family started the popular outdoor pick your own in 1984. The pick your own concentrates on strawberries and raspberries, with a number of varieties of each to enable as long a picking season as possible.
Open from 18th June 2022
(Please check Facebook Page for updates on opening before travelling)
Other Details:
Pre-purchased entry ticket/voucher required to limit visitor numbers at any one time, so the farm does not get overwhelmed. 
To pre-purchase your ticket/slot visit kemps.merlintickets.co.uk/  (Slots will be released daily based on fruit availability). Ticket price: £2 per person,  under 2 free, recieve a £2 voucher to spend in the farm shop / on tractor rides
Contactless payments will be the preferred payment option
Large car park
No toilets
Horsforth Pick Your Own, West End Lane, Horsforth LS18 5ES.
---
I hope our post on 5 Places to Pick Strawberries around Wakefield. Picking strawberries together is a great way to spend time outdoors with family and friends.
For ideas and activities for families to enjoy in the Wakefield area this summer, take a look around the Wakefield Mumbler website