Whenever we go on a walk where there are ducks, they are always being fed by people of all ages! It is such a good activity to get some fresh air and run off some energy with the kids (as well as being FREE!!)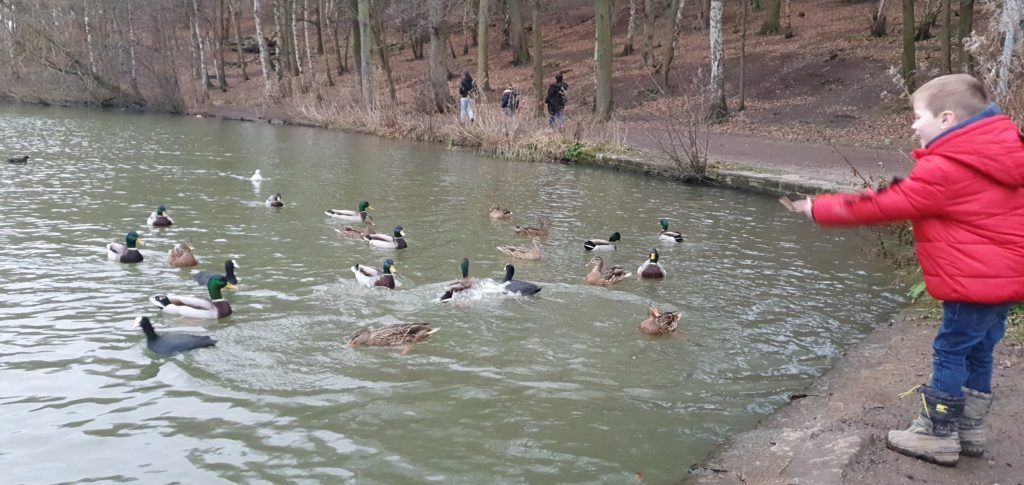 Here are our pick of five duck ponds across the Wakefield District:
1) Thornes Park, WF2 8QD
When Mini Mumbler was little, we would regularly go to Thornes Park to see the ducks! They will quite happily jump out of the pond and feed from your hand. For someone who is petrified of flying animals I would quitely disappear back to the car and leave Daddy to it!
At the far end of the duck pond is the aviary with lots of different birds too and if you wanted to brace the hill with your buggy, you can pop over to the other side of the park to the play area!
2) Stanley Marsh Nature Reserve, WF3 4DF
This is not Stanley Ferry, this is just off Lime Pit Lane! You can take the circular path around the lake through lovely woodland! There are lots of ducks, bird and wildlife to spot along the way!
The canal is also nearby and is a great place to do some boat spotting and watch the barges go through the lock at Stanley Ferry
3) Hemsworth Water Park, WF9 5JB
There are two lakes at Hemsworth Water Park; the largest having sandy beaches and you can ride pedalos and then the smaller one being a little quieter and  more for wildlife. Both lakes have lots of ducks and swans, the paths are well maintained and there is a brilliant play area too (charges apply)
Please note local residents in Hemsworth, Fitzwilliam & Kinsley are entitled to a reduction in costs of some of the facilities – permit is obtainable from the Community Centre
4) Newmillerdam Country Park, WF2 6QQ
A firm favourite with our family! We love how there are the fisherman platforms and the gentle slopes so you can get up close to the ducks!
The ducks are really friendly too (as they are very well fed) so expect to be followed around the lake!
You can combine it with a walk around the lake, and maybe a coffee and cake at one of the cafes and restaurants in Newmillerdam!
5) Pugneys Country Park, WF2 7EQ
There are loads of ducks with tonnes of parking, a great play area and a little train to ride on (charges apply). We have spent hours at Pugneys, whether feeding ducks or walking round the lake!
The ducks and geese are usually on the bank side so there's no need to go close to the water edge!
More recommendations from Mumblers:
Anglers Country Park, Wintersett (WF4 2EB)
Nostell Priory, Nostell (WF4 1QE)
Walton Colliery (WF2 6NB)
Wilton Park, Batley (WF17 0AS)
Roundhay Park, Leeds (LSH 2HH)
The big debate … can you feed bread to ducks?
There was a bit of a debate in October 2019 when a mum posted a photo of a poster saying it was fine to feed ducks bread displayed at her local park in Derbyshire.
BBC News ran the story with the RSPB saying bread was fine in small amounts if the ducks had a varied diet. Things you can feed ducks include bread, sweetcorn, porridge oats, peas or bird seed. To read the full story – https://www.bbc.co.uk/news/uk-england-derbyshire-50081386